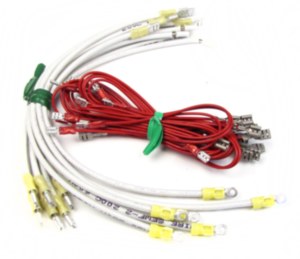 Harness Wire Set KM 8-12 1P
$45.00
Item #: SKMHWSKM271
Please note that the listing for the 822-1227 wires are compatible with the following KM models: 822, 822-3, 1022-3, 1027, 1222, 1227.

This is Skutt's Harness Wire Set for 1-phase kilns of the following models:

KM1227
KM1027
KM1222
KM1022-3
KM822
KM822-3

This Harness Wire set includes all of the connection wires needed to connect to and from the relays and control board. The set also comes with detailed instructions on how to replace these wires for all control boards. These wires are heavy duty and prevent heat damage to the relays.

Skutt Part #: 2560.

Click here for instructions for replacing your wiring harness.
JOIN OUR NEWSLETTER!