The Ceramic Shop retail store will be closed Saturday 7/2 - Tuesday 7/5 in observance of the holiday. We are always open online. Happy 4th of July!!!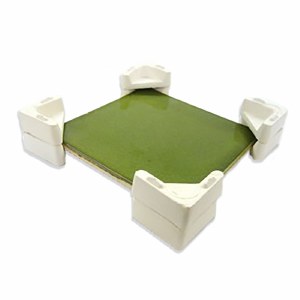 Stacking Tile Holder sets of 4
$9.90
Item #: STH4
Set of 4 tile holders (pictured here are eight tile holders in total).

These Stacking Tile Holders are a great solution to firing tiles of any size. They are lightweight and easy to store and handle. Simply rest the corners of your glazed tile on the supports. Because they are stackable, you can actually stack your tiles in a glaze firing without worry, while also saving space in your kiln! They also are a nice alternative to stilts which can sometimes cause warping on flat pieces, such as tiles.

These stands are made from durable cast stoneware supports which can withstand multiple firings.

Maximum firing temperature is Cone 10 (2400 F).
JOIN OUR NEWSLETTER!