Our online shop is always open!
Attention local customers: our retail store is closed until further notice, please click HERE for more information.
Hydro-Bat | Bullseye Bat | Snap Bat
Hump Bat | Adapters | Inserts
The Ceramic Shop's Bats
If you like throwing on plaster bats, you will love using a Hydro-Bat! The Hydro-Bat was developed right here in Philadelphia by The Ceramic Shop's owner, Mark Lueders. Because the Hydro-Bat is made of Hydro-Stone instead of the standard pottery plaster, it's full eight to ten times stronger than similar products. Hydro-Stone is a US Gypsum material containing cement and crystalline silica so it's very absorbent, AND very strong -- you will find the surface of our bats to be scratch resistant, while the bats' water-absorbing properties fully eliminate the need to cut your pieces off of the bat with a wire.
The Snap Bat throwing system was created becasue you, our customers, have been asking for it. Current systems do exist but your suggestions have led us to develop the Snap Bat System. The 1/2 inch thick home base is milled out of HDPE using a numerical controlled router. It is accurate to one one thousandths of an inch. It comes with a set of 5 plastic inserts that fit perfectly. Masonite also referred to as Hardboard, is also available for the same home base. Masonite bats absorb water and ABS plastic does not. If you are looking for complete rigidity go with the plastic. If economy is a priority and you do not mind the slight swelling, go with the masonite inserts. Either way you will have a superior home base that will last a life time.
The New Bullseye Bat made by The Ceramic Shop makes throwing even easier. Concentric rings are lightly etched into the surface aiding in the centering process. The bat comes with 10" holes on center allowing you to use it on all your favorite wheel brands. Available in 12" and 14". The bullseye rings will also make trimming a snap, giving you a clear guide where to center your form. One side has a subtle texture and one side is smooth.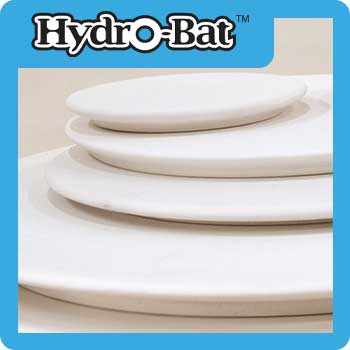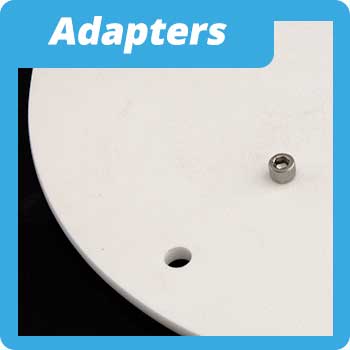 JOIN OUR NEWSLETTER!