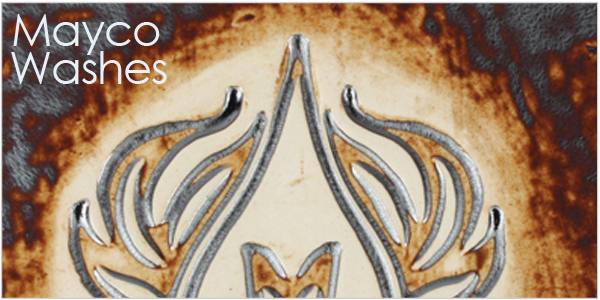 Mayco Washes
Potters and ceramic artists are accustomed to mixing various pigments in water for staining clay bodies or combining with glazes to produce textural effects. Mayco Washes provide the convenience of ready-to-use mixtures, removing the hassle and exposure to mixing dry, dusty materials. These washes are metallic pigments mixed with water and prepared as a concentrate, and because they are highly concentrated, they can be thinned with water and will go a long way. Mayco's Washes can be applied to both greenware and bisqueware and on top of or underneath glaze. They also produce great results in both oxidation and reduction firings and can be fired from cone 06 up to cone 10.
Mayco's washes are made up of very typical glaze materials - including rutile, manganese, iron and copper. While the washes are non-toxic and food safe, textural surfaces created via combinations with other glazes may not be suitable for use with food.
The choice of clay body, thickness of glaze application, firing process and temperature will affect the fired results. Always test in your kiln, on your clay body.
Washes are concentrated – adding water is recommended. Mix only the amount you plan to use in one session.