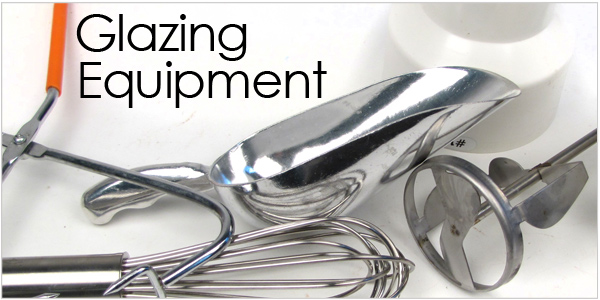 Here you will find all the equipment, tools and supplies needed to stock and accessorize your glaze room. Whether you have a large facility or a small studio space, we have everything you need.
Because one of the most common problems in glazing is the improper mixing prior to application, we carry many tools to ensure that your glazes will be mixed to perfection. At The Ceramic Shop we carry a number of mixing utensils, ranging from the high-powered Jiffy Mixer (which is an attachment that you use with a motorized drill and is ideal for larger batches of glaze) to spatulas and whisks (which are better for smaller quantities of glaze). We also carry sieves in different mesh sizes, which will also help to create more consistent results during glazing. Properly sieving your glaze prior to use helps to remove large chunks or particles that may disrupt the normal composition of your glaze, so it's nice to have these around in your glaze room.
For those of you who prefer to spray on your glaze, rather than dip or brush, you can find a number of spray gun options here, which can be useful for large-sale glaze application in studios that have spray booths and proper ventilation. We also stock atomizers, which are great alternatives to spray guns, as they eliminate the need for an air compressor and are an economical choice. Atomizers work by filling a small, metal container with glaze and blowing through a pipe, which causes glaze to spray out as a mist.
In this section you will also find measuring cups and scoops, which are great accessories, especially if you are interested in making your own glazes or watering down existing ones. We also carry hydrometers, which help you to determine the density of your glaze by measuring specific gravity.
Please feel free to contact us with any questions. If you are setting up your own glaze room and are unsure of which supplies are the most important to start with, we are happy to help!