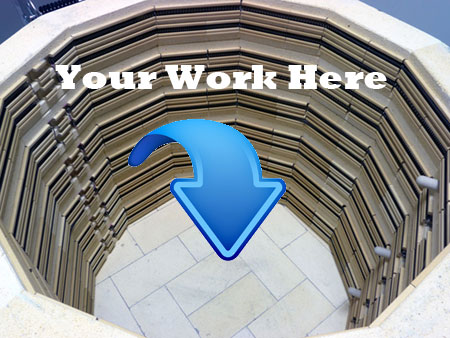 If you live in or near the Philadelphia area and wish you had a place to fire your work, The Ceramic Shop can help! We can fire just about anything: glass, decals, heat-treated materials, metal, and of course ceramics. We can fire to a specific temperature, cone, or enter a custom program that you provide (for items requiring specialty firings like ceramic decals). You can either purchase a kiln firing online, or simply bring your work in and pay according to the kiln that your work will fit in.
We currently have several different kilns available for firing services, all priced accordingly. See the descriptions of available kilns below to help get an idea of the right kiln for your work!
Our tiny ConeArt BX119 test kiln is an excellent size for running your own glaze tests or firing small elements such as ceramic jewelry. We have many clients who are able to fit a decent amount of jewelry items in this kiln for each firing, and it can be fired all the way up to cone 10!
Our Skutt KM818 is our most popular kiln size for our firing service. Specs are listed on the pull-down menu when you click on the kiln icon below, but to give you a general idea, this kiln can hold about a dozen small bowls. This is an ideal size for smaller works such as bowls and mugs, and it fires fast and evenly.
Our L&L E23T is our workhorse kiln for cone 6 and cone 10 firings. Of course, we can bisque your work in this kiln as well, but if you are looking for a large kiln that can fire a lot of work while still supporting an even internal atmosphere, look no further! Roughly, this kiln can hold about 20 small bowls.
Our L&L E28T is 5" wider than our E23T, so it can hold a lot of work. If you are looking to fire large sculptural works or wide, flat work like dishes and platters, this is the kiln for you.
Our Oval kiln is a behemoth, perfect for over-sized sculptural work or excessively large loads for bisque firing. This is our largest kiln.
Please note that we use many of our larger kilns for stilt and post production on a very regular basis -- as such, please plan for a 2-3 day wait for getting your work into a kiln. Of course we load your work the day that you bring it in or ship it whenever possible, but sometimes all of the kilns are filled. If you are working on a tight deadline, please let us know and we will do our best to accommodate you.
Click on the icon below and select your ideal kiln size and firing temperature from the drop-down menu.