Our online shop is always open!
Attention local customers: our retail store is closed until further notice, please click HERE for more information.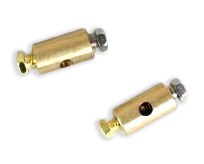 Paragon Element Connectors, 2
$9.07
Item #: PMS6
This set of 2 element connectors can be used with a variety of kilns but is designed for Paragon Kilns. They connect the element wires to the high temperature connection lead wires, which typically go to a switch or a relay.

OEM Paragon part: MS-6
JOIN OUR NEWSLETTER!