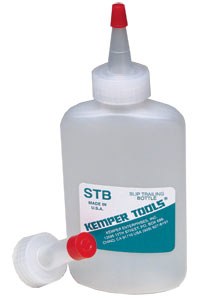 Slip Trail Bottle, Kemper 4 oz
$4.49 $4.27 $0.22
Item #: KSTB
The Kemper 4 oz. Slip Trail Bottle is a soft, easy to grip polyethylene bottle, and is great for use with slips, underglazes, engobes, glazes or wax resist. This is a staple product for any potter interested in surface decoration! We recommend it for both beginners and more advance artists.

The Slip Trail Bottle comes with two (2) different style tips: one (1) round and one (1) ribbon, for creating varied lines styles, and caps for each. The bottles can easily be cleaned and reused. Tips should be washed thoroughly with warm water after each use to prevent clogging.
JOIN OUR NEWSLETTER!