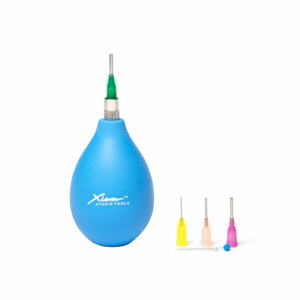 Slip Applicator, Xiem 3 oz.
$21.95
Item #: XPA3
Xiem's Precision Applicator system consists of a super-soft rubber applicator bulb, nickel-plated connector and your choice of interchangeable tips. A true innovation in ceramic glazing, slip-trailing, fine detailing, writing, wax-resisting, painting and any other liquid surface decorating technique you can dream up. These rubber bulbs are ideal because they allow for a no-slip grip during application, even with wet hands! It's lightweight, easy to use and clean, and the precision tip and connector system ensure that air pressure and flow rate are regulated evenly and effortlessly. Super soft feel for accurate slip trailing!!

Add on different tip sizes to create lines of varying thicknesses. Be sure to clean tips thoroughly with warm water after each use to prevent clogging.

By far the highest quality slip applicator on the market.

This 3 oz. Precision Applicator Set includes:

3 oz. Precision Applicator Bulb
Precision Applicator Connector
Four (4) Precision Applicator Tips:
14 gauge
16 gauge
18 gauge
20 gauge
Bonus: 2 Precision Applicator Cleaning Pins!

Additional tip sizes are available for purchase.
JOIN OUR NEWSLETTER!