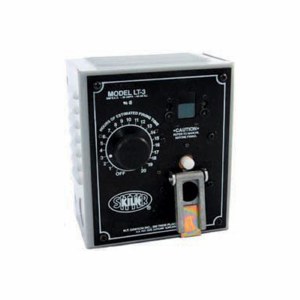 Dawson Kiln Sitter, LT-3 7"
$195.00 $185.25 $9.75
Item #: LT3
Includes 7" Type P tube assembly.

Comes as shown with timer and box.

LT-3 Dawson Timer was used on many Older L&L kilns. The Econo kilns, the Jupiter series kilns and many other kiln series and models.
Does not come with the metal front plate that guides the claw tip at the end of the sensing rod, which is listed separately here.

Please enter your kiln's phasing in the Comments section during checkout to ensure that we get you the correct model.

You can find other replacement parts for your kiln sitter by following the links below:
120v Timer
240v/208v Timer
Type K Tube Assembly
Type P Tube Assembly
Switch block with contacts and plunger
JOIN OUR NEWSLETTER!