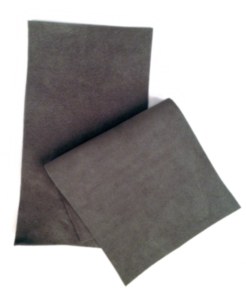 Chamois - Heavy Duty, Grey
$3.85
Item #: CSCG
The Ceramic Shop is excited to introduce our very own chamois!!

It is made from genuine soft suede and is extremely smooth.This chamois is slightly heavier in weight than the typical pottery chamois, making it more durable and longer lasting.

Chamois is ideal for use in wheel throwing, as it can help to compress the clay on the rims of pot while they are still on the wheel - creating a smooth surface and adding stability to your piece!

Available in dark charcoal grey.

Cut into strips or use whole. Measures approx. 3" x 5".
JOIN OUR NEWSLETTER!