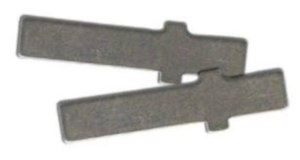 Cone Supports, Kiln Sitter
$14.00
Item #: LLCS
We know that cone supports are often lost when kilns are moved from one location to another. But, good news - they are replaceable and we have them waiting for you!

Cone supports are easy to replace. They simply slide into one end of your tube assembly. If your slots are cracked in the end of your tube assembly you should replace the whole tube. Never fear - we have those too!!

This little part can ship in a standard sized envelope, Or if you are ordering more then 2 sets they may ship in a small mailer.
JOIN OUR NEWSLETTER!