As of 2023, ALL new L&L Kilns come standard with the Genesis Touchscreen Kiln Controller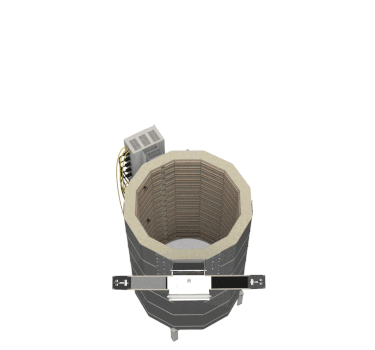 -- Kiln Upgrades and Add-Ons --
Each kiln is built to order on a single-piece-flow modern manufacturing line to deliver world-class quality and quick delivery - even with custom configurations.
The JD245V and J245V come in either 208v or 240v as well as 1 phase or 3 phase. During checkout please specifiy voltage and phase in the comments section. Have questions? Give us a call.
Specifications
Max Firing Temp: Cone 10, 2350 F
Inside Dimensions: 23-3/8" D x 45" H
Cubic Feet: 11.75
Number of Sections: Five
Standard features include the heavy-duty elements with Dyna Glow element holders and the Easy-Lift, Easy-Load hinge and full support aluminized stand.
The option for Power Bottom offers more power, a good investment for those planning on firing to Cone 10 for years to come with their Jupiter Kiln.
Furniture Kit includes:
Four 20" Full Round Shelves and Four 20" Half Round Shelves
Furniture Posts: Six each of 1/2", 1", 2", 4", 6", & 8" high 1-1/2" Square Ceramic Posts
Furniture Accessories: One Pair Heat Resistant Gloves
We recommend the upgrade to 3" brick