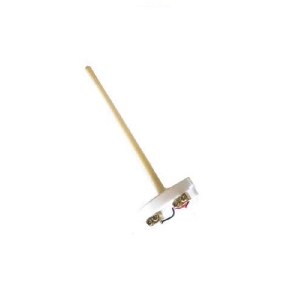 Type S Thermocouple, Whole
$300.00
Item #: THRMSW
When handled with extreme care, the Type S thermocouple can last virtually forever.

The Type S Thermocouple is constructed of Platinum/Rhodium Alloy and enclosed in a thin-walled, high temperature alumina sheath. It should not degrade like traditional type K thermocouples however it is extremely fragile and extreme care should be taken when loading ware or shelves around it.

It is crucial to use Type S Thermocouple wire (not included) with your Type S thermocouple. If you are upgrading to a Type S thermocouple and do not match the wire throughout the entire thermocouple circuit, you can severely over-fire your kiln.

We highly recommend that you take a look at this upgrade guide before ordering and installing your new thermocouple.
JOIN OUR NEWSLETTER!