As of 2023, ALL new L&L School Master & Doll Kilns come standard with the Genesis Mini Touchscreen Kiln Controller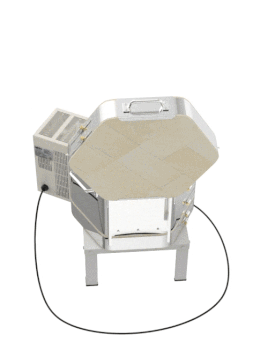 -- Kiln Upgrades and Add-Ons --
Doll/Test top-loading kilns come in one size only: 11" diameter by 9" high. They come in two models, one that runs on standard 120 volts (rated to cone 5), as well as versions that run on 208 or 240 volts (rated to Cone 10). The 120-volt versions should not be used for high production (more than once a week) to their maximum temperature range - the element life will not be acceptable under those conditions. 208-volt and 240-volt versions are rated to Cone 10 under high production conditions. Comes with a Genesis Mini touchscreen control with a WiFi-enabled free app to monitor the kiln. Kiln comes with hard ceramic element holders, protected thermocouple, strong solid-top stand, and solid peephole plug.
GENESIS-MINI TOUCH SCREEN CONTROL
The Genesis-Mini control includes a touch screen interface and WIFI connectivity added to the proven software of the DynaTrol. More programming options and memory. Free App available to monitor kiln via WiFi. Touch-screen intuitive technology for easy user interface. Easy-to-follow screen descriptions. Different user-interface levels, which can be set to match the user's firing knowledge. Graphical display of the firing process right at the controller, this means you can graph the firing in real time and compare the program with actual results. Glass programs included. Store up to 12 custom user programs. Up to 32 segments per program. Ability to make adjustments during a firing such as add segments, add temperature, and skip segments. Built in diagnostics testing. Alarm. Error Codes. WiFi enabled for easy software updating. Included Phone App allows you to monitor kiln operation remotely.
DYNAMIC ZONE CONTROL
This is a standard feature with either a DynaTrol or touch-screen Genesis control. The control separately measures temperatures in the bottom, middle, and top of the kiln and automatically adjusts the heat of three zones during the firing. Kiln temperatures are automatically equalized to within 1/2 cone or better. Zone control automatically compensates for many loading issues and element resistance changes. Additionally, L&L kilns are fundamentally uniform because the element holders radiate the heat more evenly.
Furniture Kit includes:
-- Two full 9" round kiln shelves.
-- Four each of 0.5", 1", 1.5", 2", 2.5", 3", and 4" high square posts.
Temperature Options
Cone 5:
120 Volt with 5-50 plug only
Cone 10:
208/240 Volt with 5-20P Plug