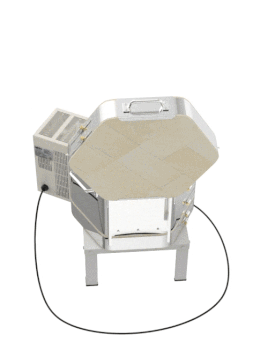 Doll/Test top-loading kilns come in one size only: 11" diameter by 9" high. They come in two models, one that runs on standard 120 volts (rated to cone 5), as well as versions that run on 208 or 240 volts (rated to Cone 10).
There is a choice of two controls: The One-Touch 3-key controller or the more sophisticated 12-Key DynaTrol controller

Furniture Kit includes:
Shelves: Two 9" Full Round Shelves (3/8" thick)
Furniture Posts: Four each of 1/2", 1", 1-1/2", 2", 3", & 4" High 1" Triangular Ceramic Posts

Temperature Options
Cone 5: 120 Volt with 5-50 plug only
Cone 10: 208/240 Volt with 5-20P Plug

Related Items:
Grinding Brick
Kiln Gloves
Lift Gate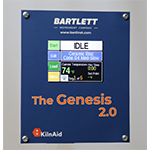 Please note that free shipping only applies to customers in the continental United States. For all other locations, please contact for our best shipping rates!
Max Firing Temp: Cone 5 (2170F)
Inside Dimensions (inches): 11" Diameter x 9" High
Outside Dimensions: 24"W x 21"D x 40"H
Cubic Feet: .5
Volts: 120
Amps: 15.4
Plug: NEMA 5-15
Shipping Weight: 155 lbs