Use code NCECA23 for 15% off The Ceramic Shop Brand Products!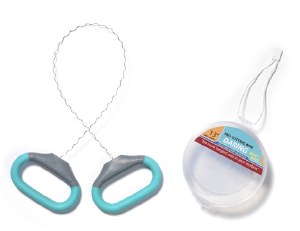 Pro Cutting Wire, 13" W, Xiem
$5.95
Item #: XPCW13W
The "Daring" Pro-cutting wire is a wavy wire. It's designed for artists who want to add some flairs and styles to their work. The handles are made of thermoplastic and soft silicone for maximum comfort and durability. The wires are made of 49 super fine strands of stainless steel that is braided in the configuration of 7 strands by 7 strands. Then coated with a clear nylon plastic for flexibility, strength, and kink resistant unless severely bent.

The Pro-Cutting Wires are designed for potters' who need to optimize their performance. The days of frayed and tangled wires are over.

Each Pro-Cutting Wire is housed in a clear case, making it easy to find and strore when not in use.
JOIN OUR NEWSLETTER!