Join us In-Store for our Annual BLOWOUT SALE, Saturday June 3rd (10am-4pm) at our Norristown, PA store!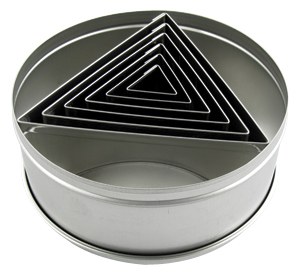 Triangle Cutters Set of 6
$19.50 $16.58 $2.92
Item #: ATTC6Tin
These high quality, stainless steel Triangle Cutters by Ateco can be used to make impressions, cut outs, or templates. This set of 6 cutters are 2 inches in height and range in size from 3/4-inch to 3 1/2-inch. Ateco Triangle Cutters come in their own tin for easy storage and organization.
These cutters are not limited to use in ceramics - use for baking, with polymer clay or any other craft materials.
JOIN OUR NEWSLETTER!