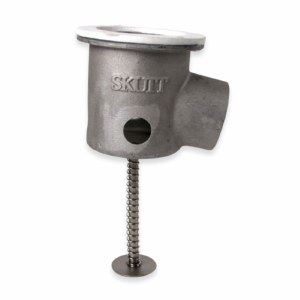 Envirovent Plenum Cup Kit
$79.50
Item #: SKEVPC
NOTE: This item is a FINAL SALE ITEM!

The Envirovent Plenum Cup Kit, comes with a cast metal cup, a spring, and stand.

If you have a Skutt Envirovent and want to hook it up to any kiln, this will allow you to do just that. It mounts underneath the kiln, and the spring holds it in place. If you already have a kiln and you are adding a second, most vent blowers can draw up to roughly 17 cubic ft. So instead of getting another vent blower, you could just get this undermount cup and split the ventilation tubing for your already-vented kiln. Please keep in mind that in order for this plenum cup to work properly, the floor of your kiln must have a few small holes drilled into it, and that is where your vent will draw hot air.
JOIN OUR NEWSLETTER!