Amaco Clay #67 Sedona Red 50lb
$38.00
Item #: AC67
Online item only! Not available for in-store pickup.

Low fire (Cone 05 - Cone 02).

Sedona Red Clay No. 67 is a rich red color before and after firing and is an excellent plastic clay for all hand methods of modeling: slab, push and pull, coil, sculpture, and wheel throwing.

*PLEASE NOTE* 25 lb increment does not apply for Amaco- order by 50 lb box only. All Amaco Clay bodies are available for purchase, however we do not stock the water based Amaco Clays. All online clay orders will ship direct from the manufacturer. We do accept school purchase orders and would love to have the opportunity to bid on your school's supply list.

To purchase a clay regularly stocked by The Ceramic Shop, consider changing to S103 or MC20. Click the images below!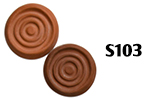 Priced per BOX
JOIN OUR NEWSLETTER!