Amaco #11 Clay, A-Mix 50lbs
$63.00
Item #: AC11
Quantity Discounts:
5
$52.50
10
$42.00
20
$36.75
40
$31.50
Priced per 50 pound box.

High Fire. Cone 5 to Cone 10.

An all-purpose off-white plastic clay formulated to be versitale and strong, No. 11 is suitable for all handbuilding methods, modeling, & wheel throwing. Cone 5-10. Off white color at cone 5 and dark buff at cone 10.

Quantities represent lbs. Amaco clay comes in 50 lb boxes. The minimum clay order is 25lbs

All Amaco Clay bodies are available for purchase, however we do not stock all the water based Amaco Clays. Many online clay orders will ship direct from the manufacturer. We do accept school purchase orders and would love to have the opportunity to bid on your school's supply list.

To purchase a clay regularly stocked by The Ceramic Shop, consider changing to S182. Click the image below!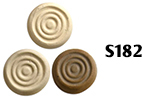 JOIN OUR NEWSLETTER!