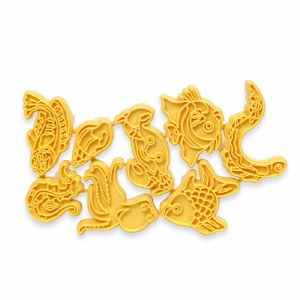 Ocean Life Stamps, Set of 8
$7.00
Item #: CHSE06
This set of 8 plastic Ocean Life Stamps by Chinese Clayart is great for creating delicate underwater scenes on your wares. Use these tools on moist or leather hard clay - pots or slabs! Great for both school age children and adults.

This set includes 8 stamps (various underwater creatures- including a seahorse, an eel, a shell, a crab, an octopus and 3 different fish), made from a strong plastic, which can be easily cleaned with warm water and a soft brush. They come attached (see photo), but are easily detached from each other for immediate use. And, with this series, the price is so great you could buy multiple sets without breaking the bank!

Stamps in this set measures approximately 1-1.5". Please see other stamps in this series for additional styles.
JOIN OUR NEWSLETTER!