The Ceramic Shop retail store will be closed Saturday 7/2 - Tuesday 7/5 in observance of the holiday. We are always open online. Happy 4th of July!!!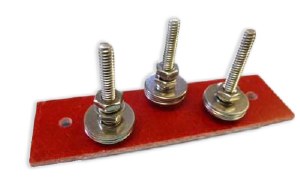 Element Connection Board L&L
$38.00
Item #: LLECB
This is the L&L terminal board for elements in a J18, J18X, J23, J230, or J236, or J245 kiln.

Includes stainless steel terminal bolts assembly and electrical insulating board. Board has two mounting holes and three terminal bolt holes. This is the old style that uses electrically insulating fiber board material.

You may also need the following parts:
Old Style Mounting Kit
Old Style Ceramic Bushings for the element ends to go through the stainless steel case.
1/4" Ceramic Spacers

L&L Part #: L-J-BK30/00

If you need to repair your old L&L kiln, we can help you find the right parts for the job - just give us a call!
JOIN OUR NEWSLETTER!