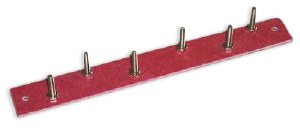 Element Connection Board L&L
$38.00
Item #: LLECBJ14
This is the L&L terminal board for elements in a J14 kiln.

Includes stainless steel terminal bolts and electrical insulating board. This is the old style that uses electrically insulating fiber board material.

You may also need the following parts:
Old Style Mounting Kit
Old Style Ceramic Bushings for the element ends to go through the stainless steel case.
1/4" Ceramic Spacers

L&L Part #: L-J-BK14/00

If you need to repair your old L&L kiln, we can help you find the right parts for the job - just give us a call!
JOIN OUR NEWSLETTER!