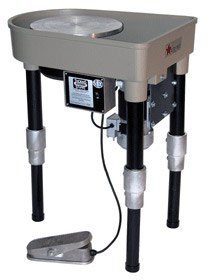 Skutt Wheel Leg Extensions
$195.00
Item #: SWLE
Let's face it, none of us are getting younger and the physical toll throwing pots can impose on your body is not going to improve unless you make some changes. It is widely agreed that one of the things you can do to help limit the damage is to throw in a less crouched position. The only way to do this is to raise the level of your stool and the level of the wheel.

These popular adjustable leg extensions easily convert Skutt Wheels into a stand up wheel by utilizing the unique cast aluminum clamp that attaches to the 2 pipe leg. These legs make the wheel infinitely adjustable to a maximum 30" in height.

Does not fit the Skutt Prodigy Wheel.
JOIN OUR NEWSLETTER!