As of 2023, ALL new L&L Kilns come standard with the Genesis Touchscreen Kiln Controller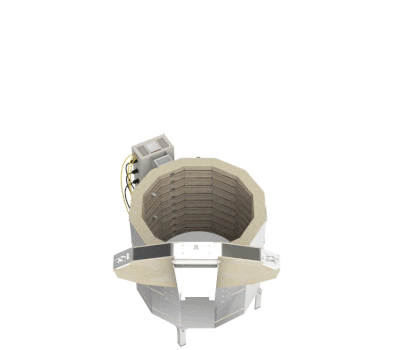 -- Kiln Upgrades and Add-Ons --
Each kiln is built to order on a single-piece-flow modern manufacturing line to deliver world-class quality and quick delivery - even with custom configurations.
The JD2927 comes in either 208v or 240v as well as 1 phase or 3 phase. During checkout please specifiy voltage and phase in the comments section. Have questions? Give us a call.
Standard features include the heavy-duty elements with Dyna Glow element holders and the Easy-Lift, Easy-Load hinge and full support aluminized stand.
The option for Power Bottom offers more power, a good investment for those planning on firing to Cone 10 for years to come with their Jupiter Kiln.
Furniture Kit is an optional addition to maximize your kiln's space.
Furniture Kit includes:
Shelves: Eight 25-1/2" Half Round Shelves
Furniture Posts: Six each of 1/2", 1", 2", 4", 6", & 8" high 1-1/2" Square Ceramic Posts
Furniture Accessories: One Pair Heat Resistant Gloves