Stool, Pottery 18", hardboard
$82.00 $49.20 $32.80
Item #: STOOL
This is the classic pottery stool. It is just the right height for most all standard pottery wheels.

It's a wobble-free quality stool, durable and practical for lab or classroom use. Steel legs support a 14" diameter seat and are welded to a 19-gauge steel foot ring. Made of tubular steel.

Features Super Dylan feet to protect floors.

Standard Color is grey with a hardboard seat.

Stool measures 18" from ground to top of the seat.

Industry standard from National Public Seating.

Need an adjustable stool?
We offer an extension set that can be purchased with this stool to add adjustability.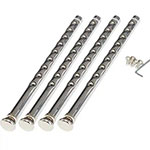 - Stool Leg Extensions

More Information:

Dimensions: 14"diaW x 30"H
Weight: 11 lbs.
Free 25-Year Guarantee
14" Diameter seat
19-gauge steel footring
Super Dylan feet
JOIN OUR NEWSLETTER!