Join us for our in-store BLOWOUT SALE this Saturday 12/7 9am-5pm for insane deals on everything!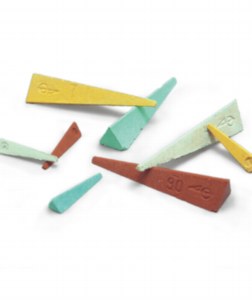 Orton Cones Small cone 015
$9.70 $8.73 $0.97
Item #: ORSMC015
Quantity Discounts:
5
$8.25
10
$7.95
25
$7.76
Orton Small Pyrometric Cones measure approximately 1.13" tall. Cones come packaged in a box of 50. Small cones are ideal for use in kiln sitters.

Please choose desired firing temperatures from the drop-down menu above.
JOIN OUR NEWSLETTER!