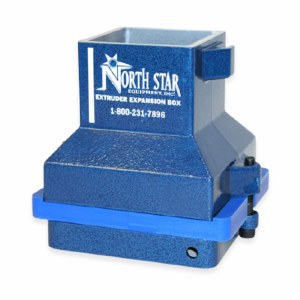 North Star Expansion Box Pkg
$325.99 $293.39 $32.60
Item #: NSEBP



The North Star Expansion Box Package in cludes the North Star Expansion Box along with a 6" medium basic die set and a center brace.

The North Star Expansion Box is an extruder accessory that allows you to create larger extrusions from a 4" North Star extruder than is possible with the extruder by itself. The Expansion Box attaches to a 4" extruder and can accommodate 6" dies. All of the opening surfaces of the expansion box are machined flat for a tight seal. The die retainer mounting ears have steel inserts for the bolts to screw into, and the ears with slots of the expansion box slide easily into and out of the extruder.

The North Star Expansion Box is made of high quality aluminum, and the die retainer ring and hardware are made of steel. All outside surfaces are powder coated for a durable lasting finish.

Includes:
Expansion Box
Die Retainer Ring
Mounting Bolts
Hex Wrench
3-piece Spacer Board and Hardware
6" medium basic die set #991 (3.5" hollow round, square and hexagon dies)

Shipping weight: 8 lbs.
JOIN OUR NEWSLETTER!