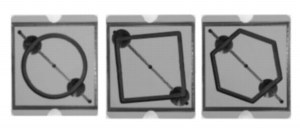 Large Hollow Die Set of 3
$98.99
Item #: NSBBDSLH



The North Star Big Blue Extruder Large Hollow Die Set is a set of 3 dies that fit the 6" Big Blue Extruder. These dies are made from High Density Polyethylene, making them durable and wear-resistant. The top edge of the die cavity is beveled to compact the clay as it passes through, giving a crisp, more solid extrusion. In the hollow dies, there is a bevel on both the interior and exterior portions under each side of the bracket (which holds the center of the hollow dies). In general, the walls of extrusions with an outer diameter of 3.5" or less are approximately 0.25" inch thick, while larger extrusions have 5/16" walls.

This set of 3 includes the following dies:
992A Round: 4 1/2" outer diameter
992B Square: 4 1/2" outer diameter
992C Hex: 4 1/2" outer diameter

Center brace sold separately.

For additional Die Shapes, please see DROP-DOWN menu above.

Shipping weight: 5 lbs.
JOIN OUR NEWSLETTER!