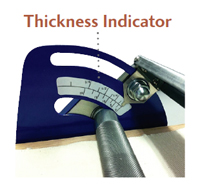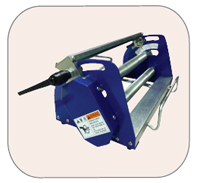 We are very excited about the new Shimpo portable mini slab roller! As with all Shimpo products, this is a high quality and durable tool. Thw mini slab roller is lightweight, low-cost and a convenient alternative to a standard, full-size slab roller.

Create perfect slabs of specific thicknesses. Simply unlock the handles and adjust the roller bar to desired thickness. Then relock the handles to keep rollers in place. Place a block of clay down and crank away!

This slab roller creates slabs up to 1 inch thick.

We recommend this product, particularly if you work in a small studio space or at home, as it is maintenance free, portable and easy to store when not in use.

Dimensions of board are 16" (width) x 24" (length).

Comes with canvas.

Related Products:
Canvas Set for Mini Slab Roller

Unit Weight: 31 lbs.
Shipping Dimensions: 25"(L) x 19"(W) x 11"(H)
Shipping Weight: 36 lbs.
2-year warranty.