L&L Easy-Fire Front Loader 1626 Kiln, 240-volt, single-phase.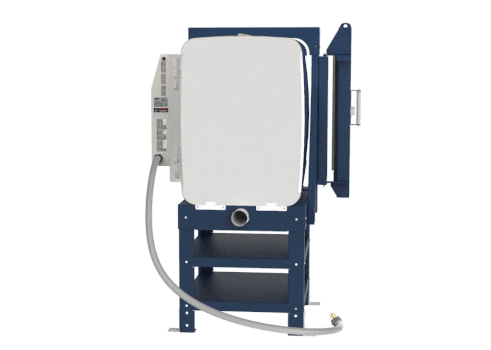 L&L's new Easy-Fire Front Loader series combines the same L&L features you've grown to love with an easily accessible front-loading style. These kilns truly have it all: Cone 10 capabilities, L&L's signature element holders, arched sides and top for extra strength, and the durability to last for years and years. The base, door, and grame are made of sturdy precision metal which makes it strong and lightweight at the same time. On top of all of that, they are easy and affordable to install and maintain, and even fits through your standard 31" x 75" doorway.

* UPGRADES AND ADD-ONS *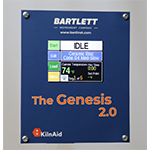 - Genesis Touchscreen Controller

L&L has made some improvements to the eFL series for 2019! Click here for more info!

Please fill out this form/checklist upon your purchase of an L&L front-loading kiln.

Features
Horizontal swing door made of heavy-gauge metal. Includes extra insulation, toggle clamps, and ceramic fiber gasket. It swings a full 180 degrees and is easily removable for maneuvering around your space when necessary.
Heavy-gauge stand that includes two shelves, the second of which has a built-in shelf rack to store your extra shelves and posts.
3" K23 firebrick and ceramic element holders means extra insulation, and the have a reflective coating that keeps the surface extra strong and prevents dusting. The L&L signature element holders add even more durability to the interior and makes replacing elements a breeze.
Quad elements with zone control ensure that you will get even firings every time. The quad elements are a low-wattage density which leads to a longer lifespan. 2-zone control (eFL 1616) and 3-zone control (eFL1626) come standard!

Options for customization
First, choose your voltage and phasing from the drop-down menu above. If you aren't sure, please consult your electrician. Second, you can choose to include the Vent-Sure vent system and/or furniture kit (see below) with your new kiln. Finally, you can customize the eFL even further by adding locking swivel castors to the stand, allowing you to freely move your kiln when you need to.

Furniture Kit includes:
Shelves: Three 14" x 24" Rectangular Shelves (3/4" thick)
Furniture Posts: Six Each 1/2", 1", 2", 4", 6", and 8" Square Posts
Furniture Accessories: One Pair Heat Resistant Gloves

Please note shipping quote only applies to customers in the contigious United States. For other locations, give us a call!