As of 2023, ALL new L&L Kilns come standard with the Genesis Touchscreen Kiln Controller
L&L Easy-Fire Front Loader 1626 Kiln, 240-volt, single-phase.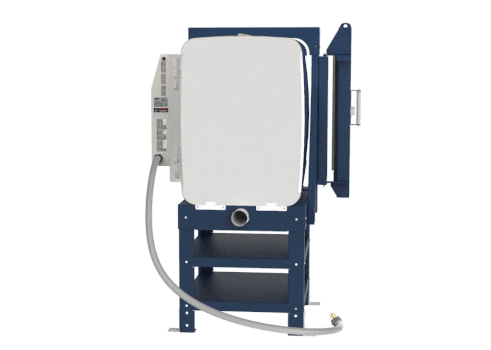 -- Kiln Upgrades and Add-Ons --
Please fill out this form/checklist upon your purchase of an L&L front-loading kiln.
L&L's new Easy-Fire Front Loader series combines the same L&L features you've grown to love with an easily accessible front-loading style. These kilns truly have it all: Cone 10 capabilities, L&L's signature element holders, arched sides and top for extra strength, and the durability to last for years and years. The base, door, and grame are made of sturdy precision metal which makes it strong and lightweight at the same time. On top of all of that, they are easy and affordable to install and maintain, and even fits through your standard 31" x 75" doorway.
Model eFL1626 Front-Loading Kiln with Multi-Program Three-Zoned DynaTrol mounted in an easy-open cool-firing piggy-back control panel that is angled for easy viewing of control. Kiln comes with hard ceramic element holders, protected thermocouples, a stand, and solid peephole plugs. The sides and top are arched for super strength. The base, door, and door frame are formed from precision sheet metal to be both lightweight and strong. These kilns ship by common carrier, and are inexpensive to buy, install, and maintain. 17"W by 26"H by 26" D (6.6 cubic feet). 3" K23 brick. NEMA 6-50 single phase or 15-50 three phase 6 foot power cord included on all models except eFL1626-208-X. Cone 10 for all voltages eFL1626-208. (See electrical specifications for details). Three thermocouples. No charge for 3-phase versions. C-MET-us is listed to UL499 in the USA & Canada. Note: Casters are optional.
Genesis Touch Screen Control
The Genesis control includes a touch screen interface and WIFI connectivity added to the proven software of the DynaTrol. More programming options and memory. Free App available to monitor kiln via WiFi. Touch-screen intuitive technology for easy user interface. Easy-to-follow screen descriptions. Different user-interface levels, which can be set to match the user's firing knowledge. Graphical display of the firing process right at the controller, this means you can graph the firing in real time and compare the program with actual results. Glass programs included. Store up to 12 custom user programs. Up to 32 segments per program. Ability to make adjustments during a firing such as add segments, add temperature, and skip segments. Built in diagnostics testing. Alarm. Error Codes. WiFi enabled for easy software updating. Included Phone App allows you to monitor kiln operation remotely.
Dynamic Zone Control
This is a standard feature with either a DynaTrol or touch-screen Genesis control. The control separately measures temperatures in the bottom, middle, and top of the kiln and automatically adjusts the heat of three zones during the firing. Kiln temperatures are automatically equalized to within 1/2 cone or better. Zone control automatically compensates for many loading issues and element resistance changes. Additionally, L&L kilns are fundamentally uniform because the element holders radiate the heat more evenly.
Furniture Kit includes:
Three 14" x 24" Rectangular Shelves (3/4" thick), Six Each 1/2", 1", 2", 4", 6", and 8" Ceramic Posts, and One Pair Heat Resistant Gloves
Additional Features
Angled Control Panel
- Easy to see and program the controller! Angled control panel makes viewing control and programming easier.
On-Off Switch and Panel Fuse
- All L&L Kilns come with an on-off switch and panel-mounted control fuse.
Mercury Free Contactors
- Power Relays are mercury-free to comply with increasing regulations and concerns about mercury.
Easy to Remove & Service Control Panel
- This is the safest and easiest kiln to work on! The Control panel pulls down easily and remains perpendicular to the element box for very easy access. All wiring is neatly laid out in a professional and industrial way with color coding and numbering for easy repair and troubleshooting. Best of all the double panel design results in cooler panels and longer control and relay life.
Protected Heavy-Duty Type K Thermocouples
- HEAVY-DUTY! Thick 8 gauge thermocouples last a long time. Special Limit of Error to ANSI MC96.1 specifications is used. KEEP YOUR WORK CLEAN! Ceramic protection tubes protect the end of the thermocouple. Keeps the oxide dust from the thermocouple tip from getting into the kiln while firing.
Hard Ceramic Element Holders
- No pins to replace and samage your firebrick! Durability, repairability, better heat transfer. The smooth, hard surface of the inside ceramic channel allows the elements to expand and contract freely. The dense ceramic holders extend element life because they do not insulate the hot elements from the kiln interior.
Solid Wide-View Peephole Plugs
- Stop breaking peephole plugs! Solid large non-tapered peepholes allow a wider view into the kiln. The peephole plugs are made from solid ceramic and are not as fragile as hollow-type plugs.
Molded Ceramic Element Connections
- No crimping and Easy to change! Industrial-grade ceramic terminal blocks make changing elements easy. All contact between elements and wire lugs is over a wide surface of heavily torqued stainless steel washers. Wires are not crimped to element ends as in some other brands. This means you can change elements yourself without buying an expensive tool or hiring a kiln repair person.
Solid Super-Strong Aluminized Steel Stand
- Full support stand. Aluminized stands are solid and corrosion-resistant. They offer solid support under the kiln - unlike spot-welded angle stands that are common in the industry.
Corrosion Resistant Case
- Keep your kiln looking new! Corrosion resistant materials and methods result in a long-lasting kiln.
Thermal Ceramics Firebrick
- K23 firebrick combines good insulation with strength.
Door Shut-Off Switch
- Extra safety for front-loading kilns. Shuts off power to kiln when the door is open
Three-Year Limited Warranty (Standard)
- Most L&L Kilns have a three-year limited warranty.
Add-Ons & Options
-
Vent-Sure Donwdraft Kiln Vent System
Vent-Sure downdraft vent vents fumes from kiln out of room and away from the kiln. Downdraft venting pulls air down to bottom of kiln. Improves temperature uniformity inside the kiln. Powerful 130 CFM fan motor, typically mounted on wall, allows fumes to be under vacuum in your studio. The strong fan motor helps overcome static pressure in long exhaust lines. The duct may be up to 60 feet in length, and include up to four 90° bends. 120 volts with on/off switch on cord (240 volts available). 8 foot long flexible aluminum duct. Bypass collection box mounted on kiln allows adjustment of venting. Fan motor, mounted away from the kilns, stays cool and no vibration transmitted to the kiln. Multi-Mount Bracket comes with the Vent System - allows you to mount vent motor in various positions.
-
Vent-Control for Vent-Sure
The Vent Control allows you to automatically control the operation of the Vent-Sure kiln vent with one of the outputs from the DynaTrol (or Genesis).The Vent Control consists of a relay that is controlled from output #4 on the DynaTrol (or Genesis). There is a female 120-volt receptacle to plug the vent into and a cord to plug into a 120-volt wall outlet. There is a 6-foot wire that connects the control box to the kiln control panel. A grommet is included for non-factory installation. It is designed for use with one kiln.
-
Type S Thermocouple Upgrade
The very best thermocouple for constant high fire applications is a Type S platinum thermocouple with an alumina sheath. This is normally only recommended for the most extreme conditions (like firing crystalline glazes) because of its expense - or if the value or precision of your work is such that you do not want to risk thermocouple drift. Type S thermocouples are composed of a positive leg which is 90% platinum and 10% Rhodium, and a negative leg which is 100% platinum. It is usable from 32°F to 2700°F. (0°C to 1480°C). It has a different EMF output than Type K thermocouples (meaning the same temperature will produce different voltages to the control which must then be interpreted differently). At temperatures used in pottery kilns (even the highest 2350°F) these thermocouples can last for a very long time (as long as they are not mechanically broken).
-
Rolling Casters
Rolling casters allow your kiln to be moved around to save space. Rolling casters swivel and lock.