Skutt KM-1018-3 pottery kiln, 240-volt, 1-phase, with added furniture kit.

The Skutt KM-1018-3 ideal kiln for smaller studios or individuals who will never need to fire objects over 18" high. This kiln gives you nearly five cubic feet of capacity in a low, wide firing chamber, which is what makes it so easy to load -- the KM-1018-3 fits about 26 bowls that are 6 inches in diameter and 3 inches high. Whether the task is delicate porcelain or heavy stoneware, the Cone 10 capable KM-1018-3 can do it all.

The KM-1018-3 comes standard equipped with Skutt's easy-to-use 12-key controller. In cone-fire mode, simply enter your target cone and then push a button to program a slow, medium, or fast firing program. Even the seasoned potter will find themselves using these time-saving buttons, but if you do intend to write your own programs, the Skutt controller makes that easy, too. This computer stores up to twelve programs with up to 32 steps each. Whether you want to slow-cool your cone 6 glazes, promote crystal development, or fuse glass, this controller can handle it. The KM-1018-3 is sectionally-constructed, which means you can easily disassemble the kiln's chamber when you are moving or repairing your kiln. Your kiln will have the versatility to fit through just about any doorway. The KM-1018-3 comes standard with 3" side brick . This kiln also comes standard with a Skutt Lid Lifter; kiln stand with feet; instructional video; operating manual; an extra type-K thermocouple; warranty card; and peep hole plugs.

Maintaining your Skutt kiln has never been easier, because Skutt's customer support is some of the best in the business. Every Skutt KM kiln is equipped with a sensor that allows remote technicians to troubleshoot your kiln right over the phone -- this sensor reads your voltage and amperage on your kiln's controller, and can also check the board temperature, LED readout and a host of other useful troubleshooting data. Skutt kilns also feature balanced elements -- because the top and bottom of a kiln tend to lose heat faster than the center, Skutt has solved that problem by placing more powerful elements in those positions.

* UPGRADES AND ADD-ONS *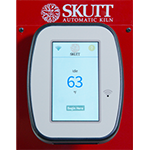 - KM Touchscreen Controller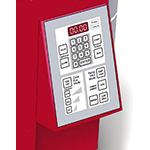 - KM Easy View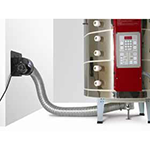 - - EnviroVent 2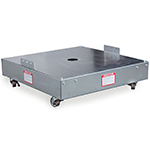 - Rolling Kiln Stand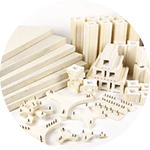 - Ceramic Shop Furniture Kit (Save money and get free gloves and stilts!)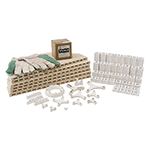 - Hollow Core Furniture Kit

Options for Customization:
First, select the correct voltage and phasing for your space; if you are unsure, please consult with an electrician before placing your order.
Next, you may choose to upgrade to APM elements. If you fire to Cone 10 multiple times per week, these long-lasting elements will save you time and money in the long run. You can also upgrade the 12-key controller to a touchscreen controller, which makes operation as easy as working a smartphone.
Finally, you may opt to order your kiln with the suggested furniture kit.

Furniture Kit includes:
Six 5/8" half shelves
Six each of 1" through 6" post lengths
8oz of dry kiln wash

You can also add the Envirovent vent system which is highly recommended for closed-air spaces.

Related Items:



- Grinding Brick


- Gloves


- Lift Gate

Shipping rate applies only when shipping within the contiguous United States. For all other locations, call us for our best rates!