L&L E23T-3 Easy-Fire Series kiln, 208-volt, 1-phase.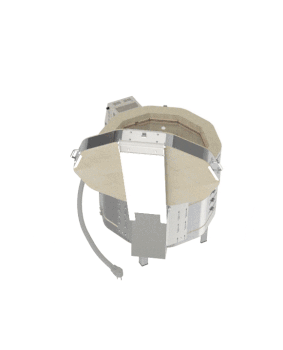 We love the Easy Fire Series! L&L is a local company for The Ceramic Shop, and we love to support local business. Why should you choose an L&L kiln? The hallmark of the L&L kilns, what really sets them apart from other kilns, is the Dyna Glow Ceramic Element Holders. They protect your firebrick through years of Cone 6 and Cone 10 firings, promising better heat distribution inside the kiln, and ease in replacement of the elements when it becomes necessary. L&L Kilns are built to last and easy to maintain.

Model e23T-3 Easy-Fire Automatic Kiln with with Multi-Program Three-Zoned DynaTrol mounted in an easy-open cool-firing piggy-back control panel that is angled for easy viewing of control. Kiln comes with hard ceramic element holders, protected thermocouples, strong solid-top stand, easy-lift spring hinge, and solid peephole plugs. 22-3/8" diameter by 27" high (6.7 cubic feet). 3" K23 brick. NEMA 6-50 single phase or 15-50 three phase 6 foot power cord included. C-MET-us listed in the USA & Canada. Cone 10 for all voltages.


-- Kiln Upgrades and Add-Ons --
The Ceramics Shop Furniture Kit for the L&L e23T-3 includes:
-- 8 - 20" half-round kiln shelves
-- 8 each of the following posts: 1/2", 1", 2", 4", 6"
-- 1 lb. box of kiln wash
-- Heater Beater kiln gloves
Three Year Warranty
Shipping Weight 380 - 470 lbs

Watch the DynaTrol Control in action.

Read the specification sheet

Wiring Diagram 1-Phase

Wiring Diagram 3-Phase
Shipping rate applies only when shipping within the contiguous United States. For all other locations, call us for our best rates!