L&L E23T-3 Easy-Fire Series kiln, 208-volt, 1-phase.





L&L's Easy-Fire Series kilns are a great addition to any studio or classroom. All kilns in this series can be fired to cone 10, and come standard equipped with L&L's easy to use 12-key controller, which allows you to use pre-programmed schedules, or store your own. The E23T-3 fires so evenly in part because the kiln is separated into three zones, managed internally by three separate thermocouples -- so if your kiln is hotter at the top than it is at the bottom, the thermocouples relay that information to the controller which then balances it all out. Like all L&L kilns, the E23T-3 is equipped with Dyna Glow Ceramic Element Holders. These holders protect your firebrick through years of Cone 6 and Cone 10 firings, promising better heat distribution inside the kiln, and ease in replacement of the elements when it becomes necessary. This kiln's convenient 7-cubic-foot size and its long-lasting features have helped to make this one of our best sellers over the years. Additionally, the E23T-3 model features 3" brick walls (as opposed to standard 2.5" brick), which maximizes efficiency -- you'll notice faster firings, and less of an impact on your energy bill.

Upgrade the 12-key controller to the new Genesis touch screen here!

Options for customization:
The L&L E23T-3 comes with several options for customization, so you can get the best possible kiln for your space. First, select the correct voltage and phasing from the drop-down menu above; if you are unsure, please consult with an electrician. Next, you may select to have your new E23T-3 constructed with high-power, production-level quad elements. If you fire to cone 10 on a regular basis -- think multiple times per week -- quad elements will greatly extend the firing life of your equipment. However, if you don't fire that high, or that frequently, you will likely not notice much of a difference in performance. Finally, you may choose to order your E23T-3 with the suggested furniture kit, which includes two 20" full round shelves; four 20" half-round shelves; six each of 0.5", 1", 2", 4", 6" and 8" posts; heat-resistant gloves; and a 1-lb. bag of kiln wash.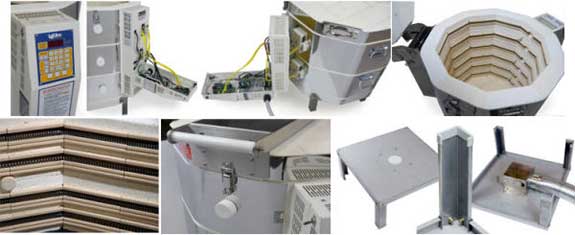 If you have any questions about the E23T-3, give us a call -- we love to talk kilns!

Related Items:
Ceramic Shop Furniture Kit (Save money and get free gloves and stilts!)
Hollow Core Furniture Kit
Furniture Kit
Grinding Brick
Vent-Sure System
Kiln Gloves
Lift Gate



Watch the DynaTrol Control in action


Read the specification sheet