Olympic Front Loader 129, with added Bartlett V6CF 12-key controller (not shown).



* UPGRADES AND ADD-ONS *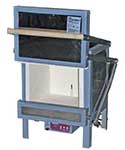 - Olympic Guillotine Lift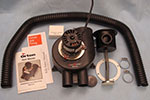 - - Orton Vent Master


About this kiln:
The Ceramic Shop says Go Green! With their thick insulating bricks, Olympic electric kilns are built for energy efficiency and allow you to achieve the desired results in kiln firings without high energy consumption. For the artist or teacher who only has 120-volt accessibility or for those who have limited space at home, the Olympic Front Loader 129 kiln is a convenient way to introduce Cone 6 capabilities to your work space. Specifically for individual piece firings, the Olympic Front Loader 129 is also great for firing smaller items such as ornaments and jewelry, and glaze firing test tiles.

The Olympic Front Loader 129 comes standard a stand, two peephole plugs, an instruction manual, and warranty card.

Options for customization:
First choose which controller fits your needs. With the 3-key controller you can fire your kiln with the touch of a button - data is entered by simply scrolling through to set the desired cone fire, or fire in ramp/hold mode. You will be amazed at the flexibility this simple digital controller offers. However, if you are focused on dialing in your glaze programs, or would like to have maximum control and program storage options, you may want to consider adding a 12-key Bartlett controller to your kiln. Take your controls one step further with the Genesis touchscreen controller. The Genesis offers the same capabilities of the 12-key controller, but features a sleek and streamlined touch-screen interface. The Olympic Front Loader 129 can also be ordered with a furniture kit.
Furniture Kit includes:
Two 9" x 7" rectangle shelves
Four each of 1", 3", 5" inch posts
One 1 lb bag kiln wash

Please select your controller and furniture kit preferences from the drop-down menus above.

The default hinge style is the side hinge placement, however a bottom hinge is also available for this model. If you would like the bottom hinge option please enter that in the "comments" section at checkout.

Related Items:
Grinding Brick
Gloves

Please Note: Free Shipping applies only to the continental United States. For all other locations, please contact us for a shipping quote.
Max Firing Temp: Cone 6 (2250F)
Inside Dimensions (inches): 11.25W x 9D x 9.75H
Cubic Feet: 0.48
Voltage: 120
Amps: 15
Watts: 1800
Plug: NEMA 5-15
Shipping Weight: 75 lbs