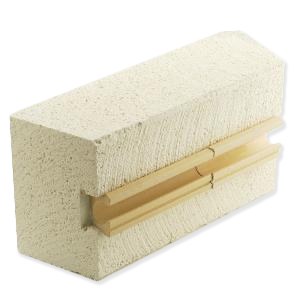 E23 3" Sidebrick, El. Holders
$34.00
Item #: BRLLE233EH
This is a sidebrick for ALL easy-Fire E23S-3" and E23T-3", 3"-brick kilns with element holders. Each unit includes one 3" brick with a full line of element holders (one 3" and one 3 15/16" long element holders).

Part # F-E-2303/00


You must enter your kiln's serial number in the "Comments" section during checkout for L&L Bricks.
First, locate the nameplate on your kiln. This will have all of the information you need, including the kiln model and serial numbers, voltage and phase and the year the kiln was manufactured. Usually the last 2 digits of the serial number indicate the year in which the kiln was made.

This is a sidebrick for ALL Easy-Fire E23S-3" and E23T-3" Brick Kilns. Each unit includes one 3" brick with your choice of element holders, element holders with space for drilling element connection holes, or just the plain brick with NO holders. Select one of the three options from the drop-down menu.

Sidebricks are single 9" x 4.5" x 3" bricks cut with the proper angles, relief cuts in the back, and grooved for element holders. The holes for the element connections must be drilled through the brick during installation in the field.

This brick can also be used on School-Master and Dual-Fire series kilns.
JOIN OUR NEWSLETTER!