Our online shop is always open!
Attention local customers: our retail store is closed until further notice, please click HERE for more information.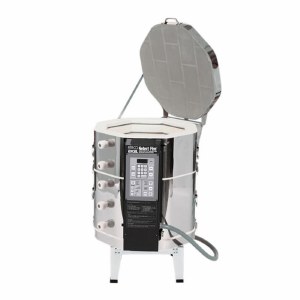 Excel EX-232 Kiln 240V with FK
$2,822.00 $2,399.00 $423.00
Item #: EAEX232WF4
Excel EX-232, 240 Volt, 1 phase, with furniture kit.

Amaco/Excel Kilns all carry a two year warranty.

When you purchase an Amaco EX-232SF kiln, you receive a free rebate of $70 in Amaco glazes. Want more details? Call us!

The new Excel 22" series kilns were designed to make loading and unloading easier for students and shorter potters. This series includes the EXCEL EX-232 and the EXCEL EX-257. These kilns are 4" deeper than the previous 18" models, yet they are still easily accessible and available in three chamber sizes. Their accessibility doesn't detract from their functional depth, however - with the Excel 22" series, you can still easily firing pieces up to 18" tall. Additionally, the cone 10 capability allows maximum flexibility for firing low and high fire work. The Excel 22" series comes in both 208 volt and 240 volt. Please select your preferred voltage from the pull-down menu. This kiln can also be sold with a furniture kit -- please select that from the other pull-down menu.

Features
2 1/2-inch firebrick
Two-position, reinforced steel bar-secures lid while loading and unloading
Reversible slabs-lid and bottom slabs can be turned over to use the other side, extending the life of the kiln
5 Kanthal A-1 Element wire coils
Select Fire™ Computer Control
7-foot power cord with NEMA 6-50 plug
Two year warranty

Specifications
Max Firing Temp: Cone 10, 2350 F
Inner Dimensions: 17.5" W x 22" D
Cubic Feet: 3.2
Voltage/Phase: 240/208 Single
208 V 1 Phase Max Firing Temp is Cone 6
Shipping Weight: 290 lb
JOIN OUR NEWSLETTER!