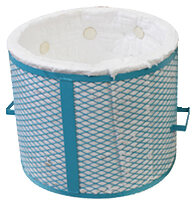 Related Items:
Heatwave Raku Kiln Features:
Firing Chamber is 18" H x 24" W
Made from Superwool 607 MAX Ceramic Fiber Blanket*.
The fiber walls are coated with ITC 100HT Ceramic Coating which both adds to the life of the kiln and reduces your fuel costs.
Kiln comes complete with 2 handles for easy lifting.
Chamber of kiln is 24" in diameter and 18" in height (total of 4.7 cubic ft)! Using the firebox design described below, the top of your first shelf can be level with the base of the kiln.
This kiln ships freight from manufacturer.
When building your base you will need a total of 40 soft bricks. We sell the 3" bricks in cartons of 20, and the 2.5" bricks are sold in cartons of 25.
How to build your Firebox Base
Building a firebox for your Axner Heat Wave Raku Kiln is as simple as stacking up some bricks. You may use insulated firebrick OR hard firebrick. You can stack them in several different ways. Illustration above suggests how to build your base.
This design uses 37 standard 9"x4.5"x2.5" firebrick. If you were ambitious, you could cut the bricks in arcs to create a circular firebox that more closely matches the shape of the kiln. Note the diamond figure in front of the burner port represents one of the posts that are placed under the bottom kiln shelf. The post is placed at an angle so that it acts as a target brick, splitting and deflecting the flames to spread more evenly into the kiln. You could also use a soft brick cut down.
Note: Superwool 607 MAX Ceramic Fiber Blanket comes with the following health hazard summary from the manufacturer: This amorphous wool was designed for enhanced solubility in lung tissue. Rats have been exposed 6 hours/day, 5 day/week during two years at an average concentration of 200 fibers/cc (200 to 300 times higher than the concentrations found in manufacturing plants). Preliminary findings indicate: No formation of fibrous tissue / No significantly elevated tumor incidence over the negative (air) control group / Reversible cellular changes similar to the effects observed after inhalation of inert dust.
Note: Firebox bricks, burner, hose assembly and regulators are not included. Each sold separately.

Call for our Best Freight Rates - This item DOES NOT SHIP FOR FREE.