* UPGRADES AND ADD-ONS *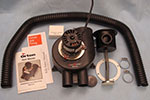 - - Orton Vent Master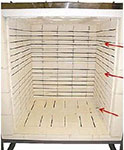 - - Orton Zone Control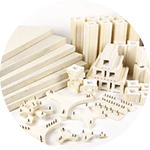 - Ceramic Shop Furniture Kit (Save money and get more!)

About this kiln:
Olympic's goal with it's Oval series was to create a kiln that was energy efficient, but could still handle larger ceramic loads. The Olympic Ovals fulfill both of those requirements while taking up only a little more floor space than the cylindrical kilns. Olympic HE-series Ovals come standard with 3" brick, with a 2" blank row of bricks to help protect the top elements. The heating elements are balanced to insure you with even heat distribution regardless of the size of the load being fired.

Options for customization:
First, select the correct voltage for your kiln's space - 208V or 240V, as well as phasing - either single-phase or three-phase. If you are unsure, please check with an electrician before placing your order. Finally, choose which kiln controller best suits your needs - the Bartlett 3-key controller, or the 12-key controller. Kiln comes standard with a stand, two peephole plugs, the instruction manual, and a warranty card.

1 year Warranty

Please note that FREE SHIPPING only applies to the continental United States. For all other locations, please contact us for a shipping quote.
Max Firing Temp: Cone 10 (2350F)
Inside Dimensions (inches): 30"L x 42"W x 33.5"D
Cubic Feet: 20.5
Volts: 240
Amps: 85
Watts: 20400
Breaker: 110A
Plug: Direct
Shipping Weight: 765 lbs