Stool, Pottery 24", hardboard
$87.00 $47.85 $39.15
Item #: STOOL24
Need an adjustable stool?
We offer an extension set that can be purchased with this stool to add adjustability.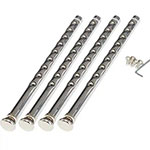 - Stool Leg Extensions

This is the classic pottery stool. Ideal for handbuilding

It's a wobble-free quality stool, durable and practical for lab or classroom use. Steel legs support a 14" diameter seat and are welded to a 19-gauge steel foot ring. Made of tubular steel.

Features Super Dylan feet to protect floors.

Standard Color is grey with a hardboard seat.

Industry standard from National Public Seating.

More Information:

Dimensions: 14"diaW x 30"H
Weight: 11 lbs.
Free 25-Year Guarantee
14" Diameter seat
19-gauge steel footring
Super Dylan feet
JOIN OUR NEWSLETTER!