The Ceramic Shop retail store will be closed Saturday 7/2 - Tuesday 7/5 in observance of the holiday. We are always open online. Happy 4th of July!!!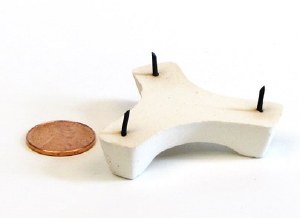 Stilt A Series, #4, pk of 12
$18.99
Item #: RSA4
The A Series is our classic, multipurpose 3 pointed stilt. These stilts, while small, are strong and durable, as they are made from a high temperature clay body. They can be fired multiple times and withstand rugged treatment. The metal points are made from high quality metal alloy, making them sturdy and longlasting.

The #4 stilt measures 1.5" from metal point to metal point.

All the silts are made here at The Ceramic Shop and are rated to cone 10.

These stilts come in a package of 12.
Specifications are approximate & may vary slightly from piece to piece
Pin to Pin Distance: 1.5"
Pin Layout Dia.: 1.73"
Weight Capacity: 1.125 lbs*
Max Cone Rating: Cone 10
*Tested to cone 6 max.
JOIN OUR NEWSLETTER!