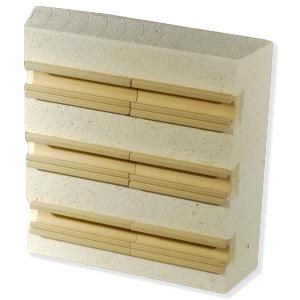 L&L 2900 Section w El. Holders
$102.00
Item #: BRLLJD2900EH
This is a sidebrick section for ALL Jupiter and Econo JD2900 and J2900 series 2.5" brick kilns WITH element holders - this unit includes matching top and bottom 2.5" bricks with three rows of element holders (one 3.5" and one 3 15/16" holder per row).

Part # F-J-2900/00

You must enter your kiln's serial number in the "Comments" section during checkout for L&L Bricks.
First, locate the nameplate on your kiln. This will have all of the information you need, including the kiln model and serial numbers, voltage and phase and the year the kiln was manufactured. Usually the last 2 digits of the serial number indicate the year in which the kiln was made.
JOIN OUR NEWSLETTER!