Skutt Rolling Kiln Stand 1414
$675.00
Item #: SRKS1414
Stand with castors designed for the GM1414 glass kiln

Please note that in order to use Skutt's Envirovent system with a rolling kiln stand, you must also purchase the EV2 Rolling Kiln Stand Adapter.

NEW! Skutt rolling kiln stands now come standard with upgraded polyurethane casters! These new wheels have ball bearings for quiet, smooth rolling. They are also more durable and lightweight than other materials, and won't develop flat spots. Rest assured, they've been thoroughly tested to hold up to the heat and weight of Skutt kilns.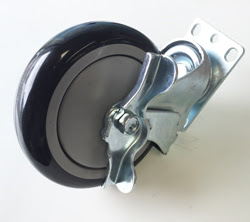 Rolling kiln stands are now available for your Skutt kiln. These stands are made specifically to fit each model and come fully assembled. Constructed of heavy gauge, welded, square metal tubing, these things are tough and stable. We use metal castors so they will not develop flat spots when sitting in one place too long like rubber castors. They also have wheel locks on all 4 wheels so the kiln will not walk away from you when you lean into it to load your kiln. If your kiln is located in your garage and you want to tuck it away when you are not using it this is the perfect solution.

Always remember to unplug the kiln if you are moving it to an area that does not have the proper clearances.

Sturdy Welded Square Tubing
Powder Coated Finish
Locking Castors
Arrives Fully Assembled

Available for Ceramic and Glass Kilns
JOIN OUR NEWSLETTER!