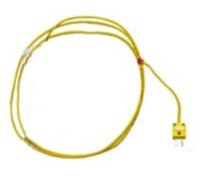 Dual Input Ext. Wire w/ Plug
$13.00
Item #: MICABLE
Skutt Part #2808

This item is a yellow cable that connects your Type-K thermocouple to a digital pyrometer. This is not simply the yellow wire for thermocouple set-up - this item does have a yellow plug head. This wire is intended to be used for the short distance between your thermocouple and digital pyrometer.

Rated to Cone 10 and for use with any side Type-K thermocouple. Compatible with our dual-input digital pyrometer.
JOIN OUR NEWSLETTER!