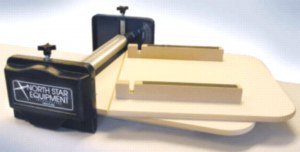 North Star Table Topper 24"
$249.99 $224.99 $25.00
Item #: NSTT530
The North Star 24" Table Topper is a free standing tabletop for countertop installation with the 24" Standard Slab Roller. Please note that this product is NOT a tabletop slab roller; it is a slab roller accessory.

The North Star Table Topper is a pair of simple platforms which mount to the same table on either side of the Standard Slab Roller. This is ideal for those who prefer to buy the 24" Standard Slab Roller alone and mount it to an existing table.

Tabletops are made of moisture-resistant Medex with a melamine surface. Tabletops are 3/4" thick and they do not warp or crack. Each standoff has anti-skid tape.

Shipping weight: 35 lbs.



JOIN OUR NEWSLETTER!