As of 2023, ALL new L&L Kilns come standard with the Genesis Touchscreen Kiln Controller
The eQuad series features the great quality that L&L is known for, and they comes standard with Quad elements. Instead of three elements per section, these kilns have four, which ensures more reliable and even firings. L&L is a local company for The Ceramic Shop, and we love to support local business.
Why should you choose an L&L kiln? The hallmark of the L&L kilns, what really sets them apart from other kilns, is the Dyna Glow Ceramic Element Holders. They protect your firebrick through years of Cone 6 and Cone 10 firings, promising better heat distribution inside the kiln, and ease in replacement of the elements when it becomes necessary. L&L Kilns are built to last and easy to maintain. L&L has 64 years of experience in making quality kiln products and offering top notch customer service.
Furniture Kit includes:
-- Eight 25-1/2" Half Round Shelves.
-- Six each of 1/2", 1", 2", 4", 6", & 8" high 1-1/2" Square Ceramic Posts.
-- One pair heat resistant gloves
-- Kiln Upgrades and Add-Ons --
Three Year Warranty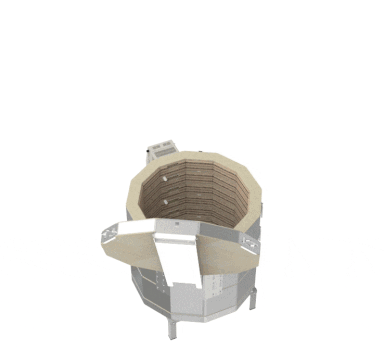 Read the Dynatrol controller basic manual.

Watch the DynaTrol Control in action.

Wiring Diagram 1-Phase

Wiring Diagram 3-Phase