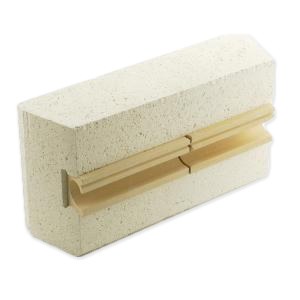 L&L J18R/K18R Sidebrick w EH
$95.00
Item #: BRLLJ18REH
This sidebrick sections comes WITH hard element holders -- the unit includes top and bottom 2.5" bricks with two rows of element holders (one 3" and one 3 15/16" holder per row).

Part # F-J-18R0/00

You must enter your kiln's serial number in the "Comments" section during checkout for L&L Bricks.
First, locate the nameplate on your kiln. This will have all of the information you need, including the kiln model and serial numbers, voltage and phase and the year the kiln was manufactured. Usually the last 2 digits of the serial number indicate the year in which the kiln was made.

This is a sidebrick section for ALL Econo J18R and K18R 2.5"-brick kiln sections (6.5" height). This section comes with or without hard element holders, or with element connections drilled -- please select your preference from the drop-down menu above. This unit includes top and bottom 2.5" bricks.
JOIN OUR NEWSLETTER!