Use code NCECA23 for 15% off The Ceramic Shop Brand Products!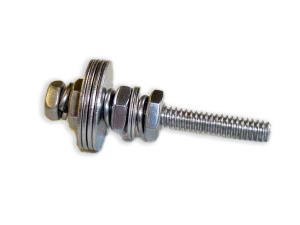 L&L Element Terminal Hardware
$6.25
Item #: LLTH
This is the hardware set for one element connection on an element terminal block for the L&L ceramic terminals.

Set includes:
- One #10-24 x 1-3/4" Long Stainless Steel Bolt
- Three #10 Stainless Steel Split Lock Washers
- Three #10-24 Stainless Steel Nuts
- Two #10 Small Stainless Steel Flat Washers
- Four #10 Fender Washers

Note: You will need all four fender washers when you are making a series element connection but only three when you are making a parallel element connection.

Note: You may not need all the fender washers.

L&L Part M-G-TSET/00
JOIN OUR NEWSLETTER!