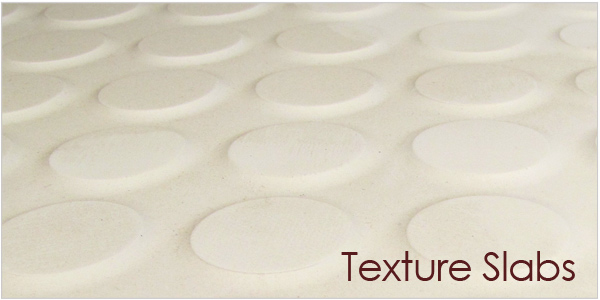 Plaster texture slabs are a nice alternative to texture mats and rollers because they are very absorbent and allow for extreme detail. A slab of clay is simply rolled out and laid on top of the slab. A rolling pin can be used to evenly press the clay onto the plaster, and the clay can then be peeled off, revealing a beautifully-textured surface. Because plaster is so absorbent, you will be amazed at how easily your clay releases from the texture slab's surface.
Use these slabs in handbuilding or on wheel thrown work. It is extremely simple to create intricate patterns on your wares - even beginners can get fabulous results with these slabs. Consider forming textured slabs into easy-to-form coffee mugs, or roll the bottom of your footless wheelthrown forms on the texture slab to create a fun surprise on the bottoms of your pots.
Plaster texture slabs are sturdy, durable and easy to clean. They are favorites in classrooms and studios, and we update new patterns frequently!