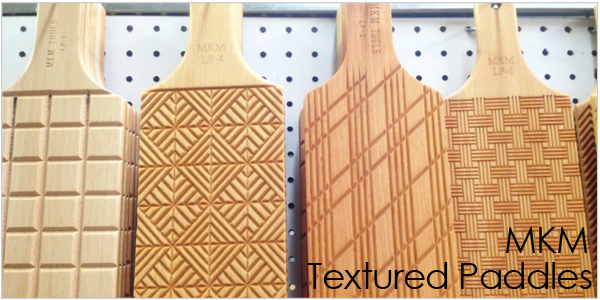 MKM Textured Paddles
MKM has created beautifully crafted, textured wooden paddles with different designs on each face. These paddles are great tools for paddling thrown pots and creating interesting surface effects, and they can be used for handbuilding, as well. The textured surface allows you to create patterned coils, handles, slabs and more. Simply place the paddle on a flat surface and lay a slab of clay on top of it. Then, with a rolling pin (or your hand), gently press the clay into the paddle. Peel the clay off the paddle, which is designed for easy release of the clay. Now your slab has a gorgeous textured pattern on it! Sometimes it is useful to press the clay in between two paddles so that both sides of the slab are patterned.
Some of the paddles are double-sided, with a unique texture on each side. Others have a textured design on one side and a plain surface on the other. The plain side is ideal for use as a traditional paddle tool, which is great for altering thrown forms and compressing clay. MKM's textured paddles have a convenient hole in the handle, which allows you to hang your paddle for easy storage.