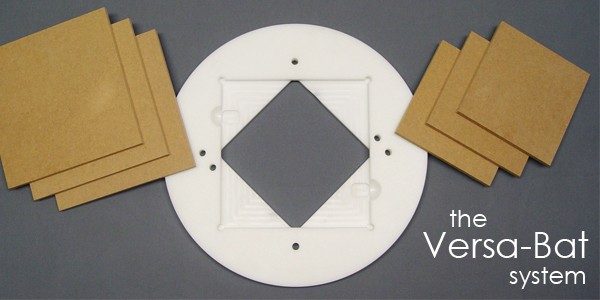 The Versa-Bat is your answer to storing your unfinished wheel work. Have you ever noticed that large round bats tend to take up a lot of space on a storage shelf? Have you ever tried to use pot lifters to transfer your newly-thrown vessels onto an easier-to-store platform, only to damage and warp your pieces in the process? The Versa-Bat system by Great Lakes Clay has you covered.
This system consists of one large, round master bat that has holes to accommodate both 12" and 14" wheelhead pins, so it will work with pretty much any wheel – the Versa-Bat system fits on all Brents, Shimpos, Pacificas, Soldners, and Creative Industries equipment. The recessed square space in the middle is where you can place interchangeable Medex or Hydrostone bats. You can now throw a vessel on the surface of the square bat and then just pop it out of the master. You will find storing this square base makes for much easier, compact storage.
This studio staple was designed by Great Lakes Clay's Tim Pfinner and has been around for about twenty years. Bats that fit the Versa-Bat system are available in two different materials – Medex, which is like a particle board, and Hydrostone, a very hard plaster – and two different sizes, 6" or 8". Each Versa-Bat master can fit both 6" and 8" bats, so you also have flexibility your choice of the square bats you choose to use with the system.
If you have any questions about the Versa-Bat system or any related accessories, we are happy to answer them! Please give us a call – our talented staff will be happy to hear from you.